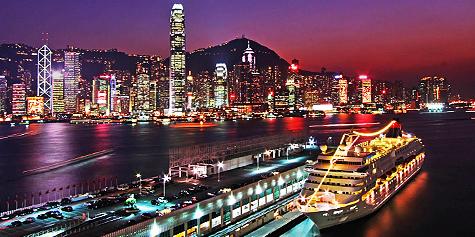 Hong Kong's strong cruise figures in 2017 were shared by Anthony Lau, HKTB's executive director, at a media luncheon at the beginning of the annual Seatrade cruise event. "Hong Kong remains Asia's premier cruise destination and homeport, as we welcomed several newbuilds last year," said Lau. "We had the honor of being the homeport for the official christening of Dream Cruise's newest 3,500-guest capacity luxury vessel, Genting's World Dream, which is homeporting year round in Hong Kong."
In 2017, Hong Kong received 245 ship calls, a 28 percent year-over-year increase from 2016, and saw a 33 percent year-over-year increase in cruise throughput, with more than 900,000 passengers. Overall passenger throughput consisted of a mix of guests from international markets, Mainland China and Hong Kong. The Hong Kong domestic market made up 42 percent of arrivals, the Chinese mainland accounted for 23 percent, and short- and long-haul international markets contributed 35 percent.
Since the opening of the Kai Tak Cruise Terminal in 2013, Hong Kong has amassed a compound annual growth rate of 29 percent for ship calls and 47 percent for passenger throughput. Hong Kong's connectivity advantage, with more than 1,100 daily flights to over 220 destinations, along with a visa-free policy for more than 170 countries creates opportunities for the development of fly-cruise products. Last year, Hong Kong received over 14 million international visitors, which represents a huge source of customers for fly-cruise packages.
In 2018, Hong Kong will once again serve as the homeport for Royal Caribbean's Ovation of the Seas from May to June and Voyager of the Seas from July to August. The two mega cruise ships will sail on a variety of itineraries from Hong Kong. Asia's newest luxury cruise ship, Genting's World Dream, which was christened in Hong Kong in November 2017, is homeporting at the Kai Tak Cruise Terminal year round, offering two- to seven-day sailings in Asia.
Visitors to Hong Kong will continue to discover a multitude of experiences, which have turned the city into one of the most exciting and sophisticated destinations in the world. Hong Kong has a spectacular line-up of events throughout the year, including the International Chinese New Year Night Parade in February, the Hong Kong Dragon Boat Carnival in June, and the Hong Kong Cyclothon and Wine & Dine Festival in October, to name just a few.
Late last year HKTB introduced a new version of the internationally acclaimed nightly multi-media light show "A Symphony of Lights," which travelers can enjoy free of charge from various vantage points around Hong Kong Harbour, including the Tsim Sha Tsui waterfront outside the Hong Kong Cultural Centre, and the promenade outside the Golden Bauhinia Square in Wan Chai.
Source: Hong Kong Seeks to Solidify a New Era as Asia's Cruise Hub
0